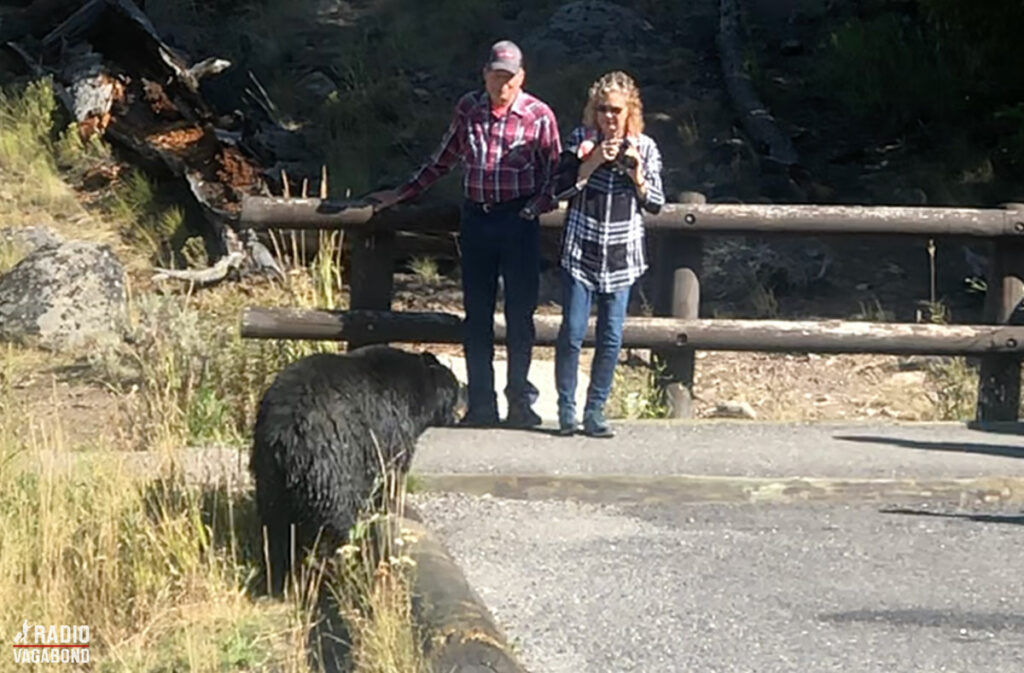 I'm back in the USA after a brief stay in London. In this episode, I'll be in Montana and Yellowstone National Park – where I get up close with a bunch of buffalos and a big bear.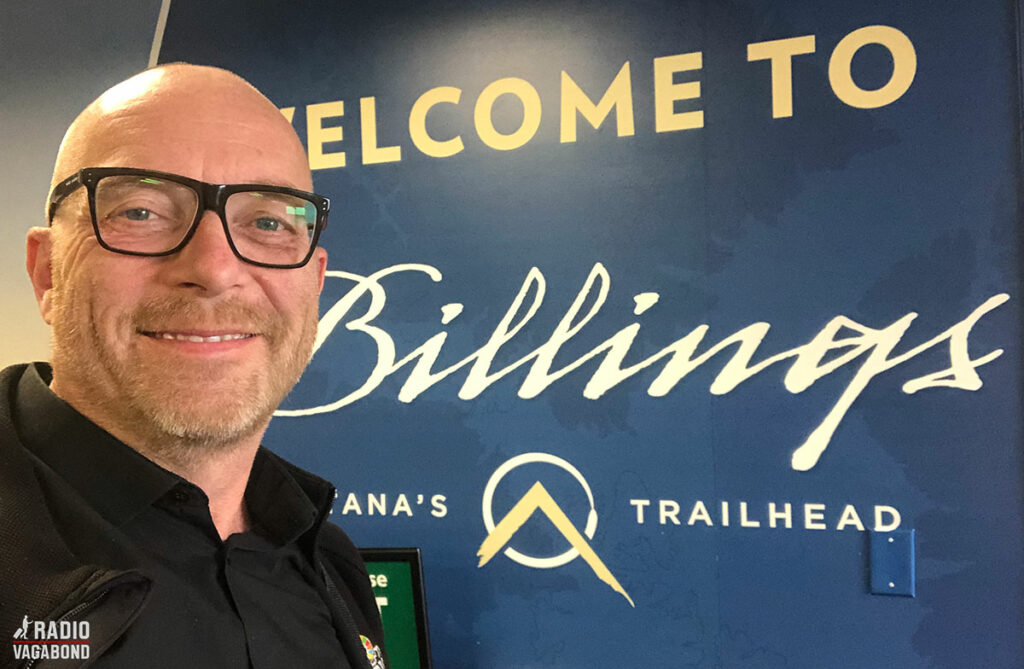 Billings, Montana
I met Stefan Cattarin of Visit Billings and asked him to say a few words about Billings. 
"We are the largest city in the state, we serve about a 500-mile radius as the largest economic hub. We're a railroad town founded in 1882, and part of that American expansion era, but we've since become a progressive cradle in this region."
It's not the typical big American city with skyscrapers, but even though it's not so big, it has a lot of hotels. According to Stefan, they serve around 5,000 room nights with 50 hotels. 
"Montana has a draw. People want to come here, so we get a lot of leisure travel and the location between Denver, Seattle and Minneapolis makes it a natural place to stop." 
FACTS ABOUT Billings and Montana
With around 100,000 people, Billings is the largest city in Montana and is known for its rich history, diverse culture, and thriving economy.
Montana is nicknamed "The Treasure State" because of its abundant natural resources, including coal, oil, gold, and silver.
Billings was once a hub for cowboys and is still known for its rodeo culture, hosting the Montana Fair rodeo each summer.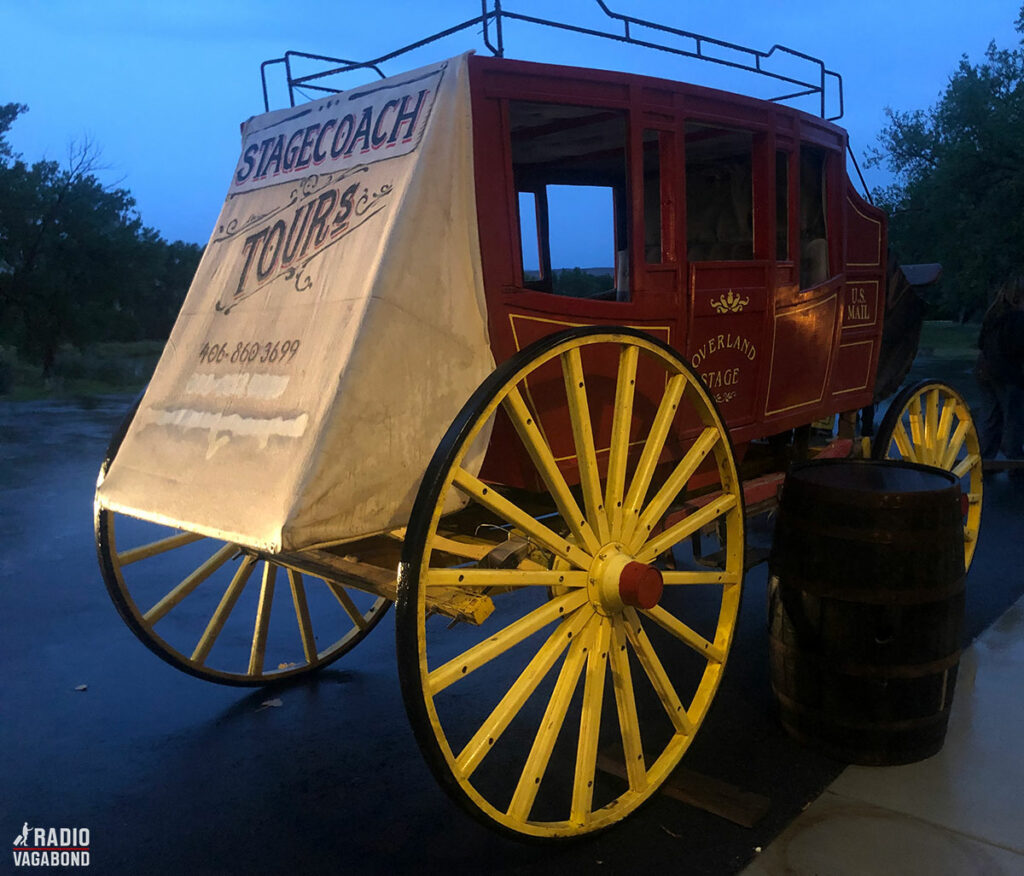 Montana is home to more than a million acres of national parks and forests, making it a popular destination for outdoor enthusiasts.
You can also find the longest undammed river in the lower part of the United States here – the Yellowstone River.
Montana is one of the largest producers of organic wheat in the United States and is known for its delicious wheat-based products.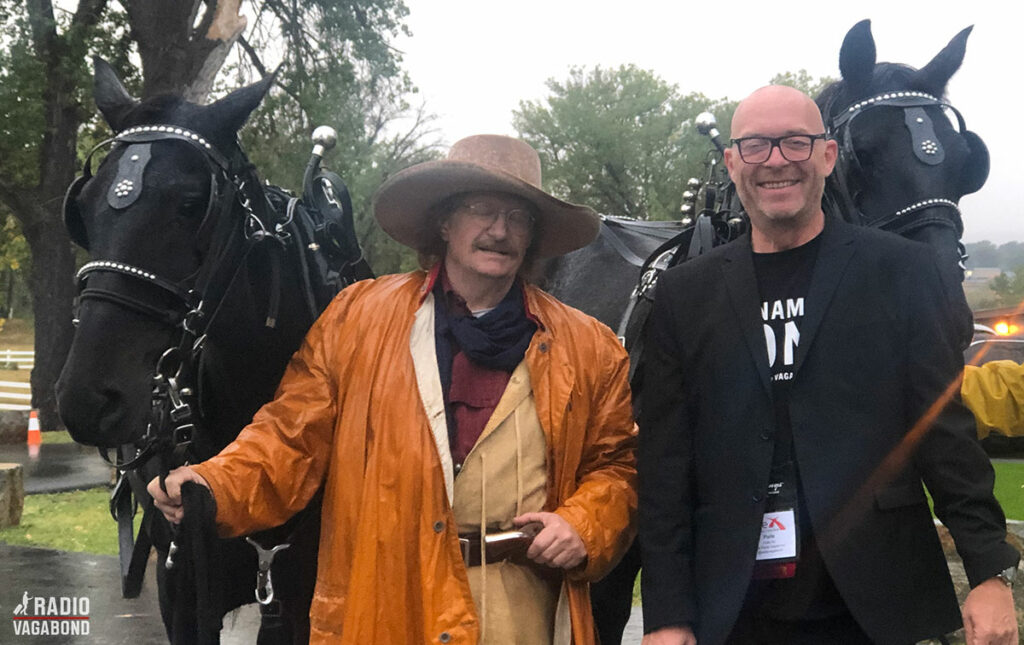 Montana is also known for its thriving arts and music scene, with several venues in Billings hosting live performances and events year-round.
You have a lot of space here. With only seven people per square mile, Montana is the third least densely populated state in the USA. Only Alaska and Wyoming have fewer people per square mile.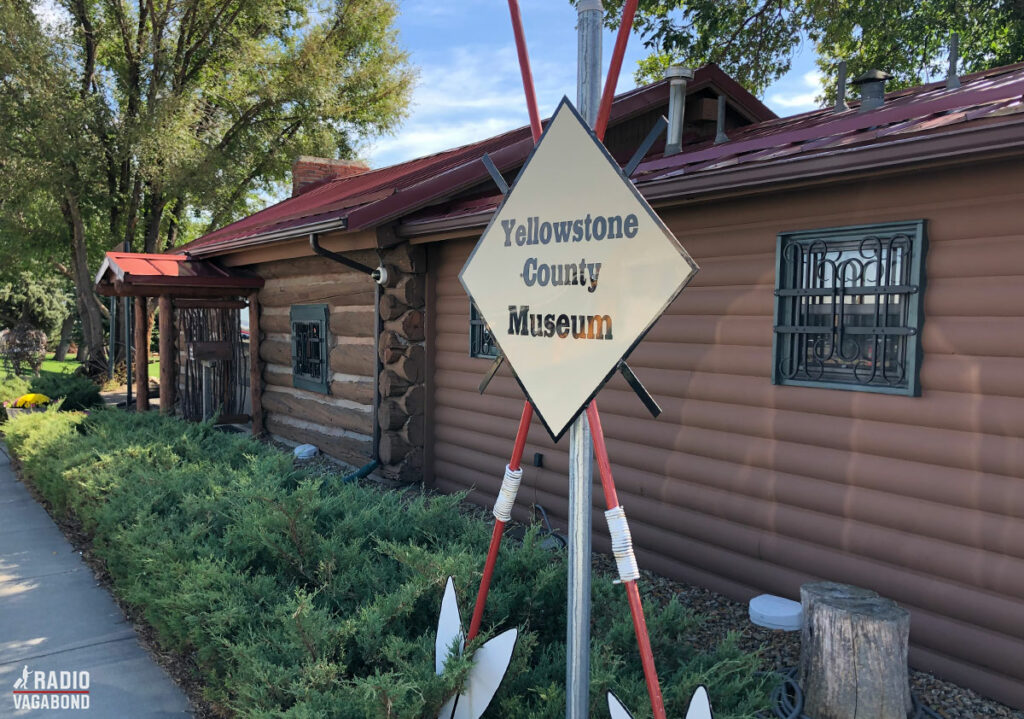 MUSEUM IN A HISTORIC CABIN
I spot a museum as I pick up my rental car at Billings Logan International Airport. It's called Yellowstone County Museum. It's placed right on top of the rim, right next to the airport. There's an amazing view here, but once you head inside the historic cabin and see more than 20,000 artifacts.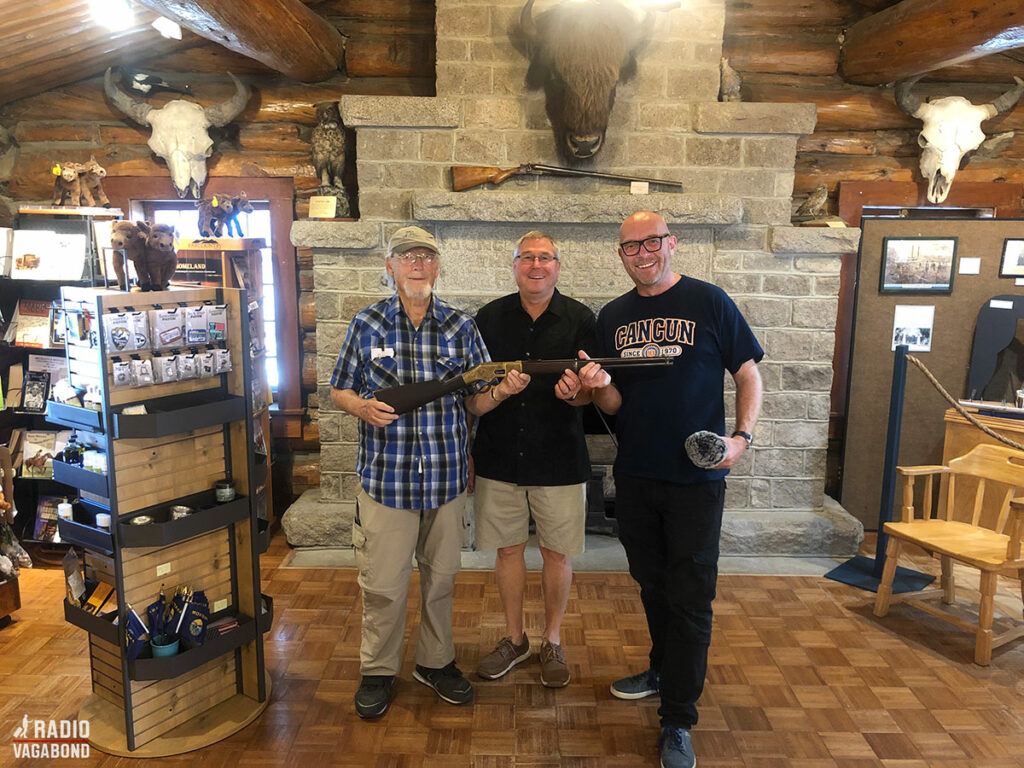 The Yellowstone County Museum has been open to the public since 1956. The entrance is a historical building called "The McCormick Cabin." It was built as a space for social gatherings by Paul McCormick in 1893 in present-day downtown Billings. The cabin was moved to its current location in 1954 to serve as the Museum's entrance.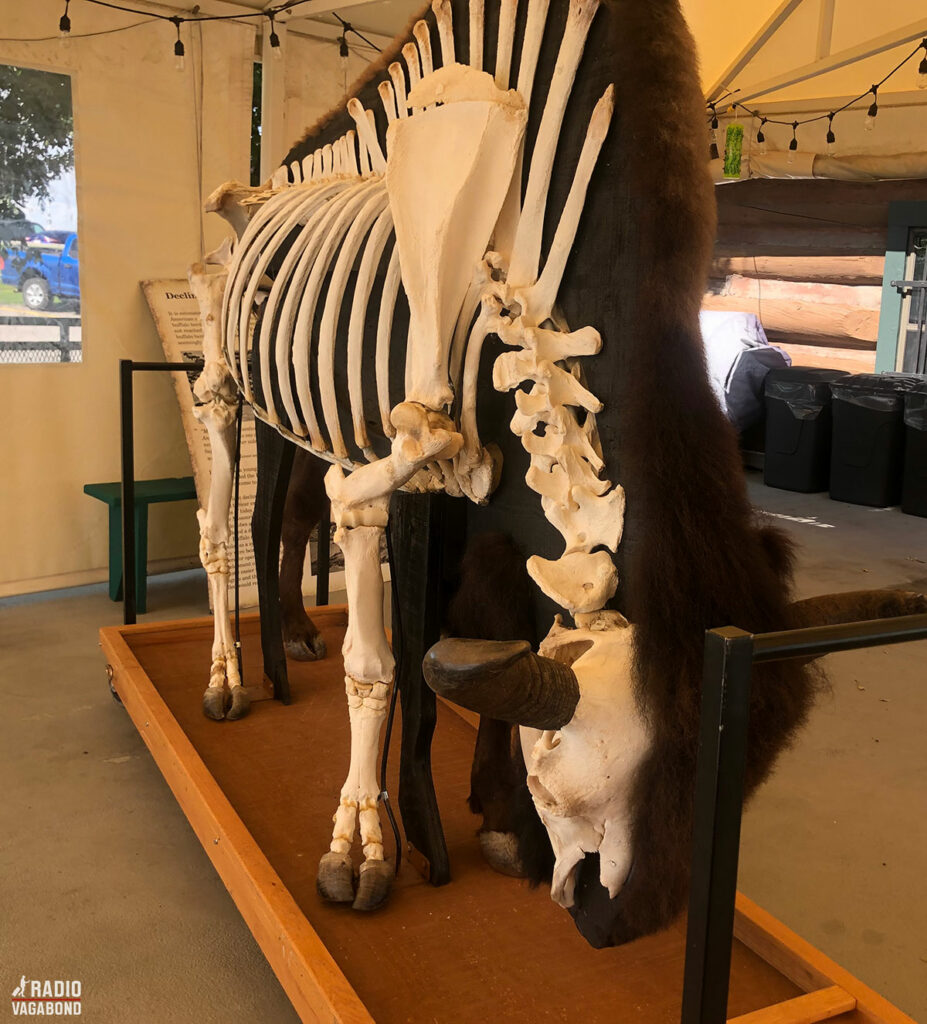 Executive Director, Terry Steiner, tells me more:
"Teddy Roosevelt and Buffalo Bill were personal friends of Paul McCormick, and they quite frequently came up to sit down and drink cheap scotch and probably smoke cigars in this cabin."
They also have a Buffalo there with fur on one side and a skeleton on the other. Or is it a Bison? 
If you're landing in or flying out of Billings, take time to visit the museum. And it's free.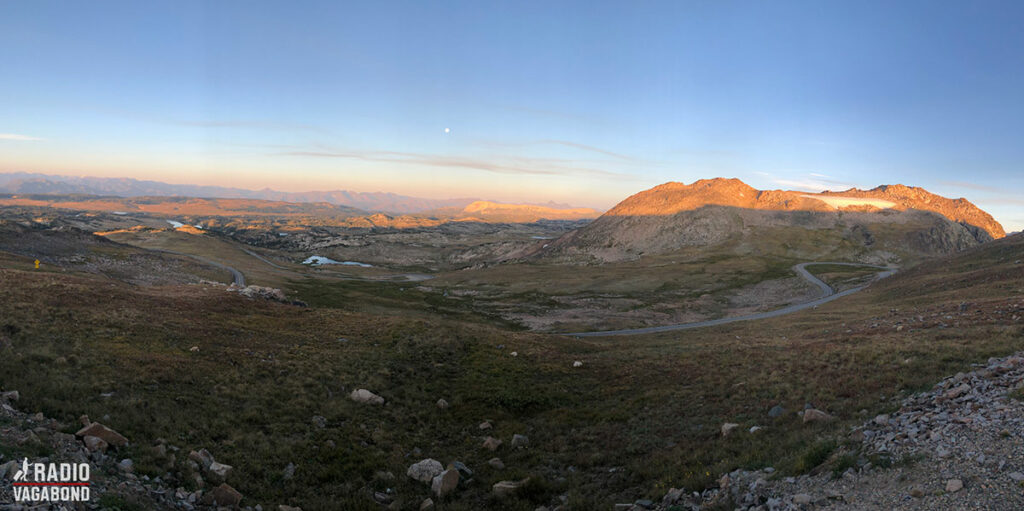 AMERICAN ROAD TRIP BEGINS
Now I'm starting my road trip, and when I met Stefan of Visit Billings, I thought he would be the best to ask what I should see.
"Well, you can't go wrong no matter if you north, south, east, or west. Truly we're known as Montana's trailhead, so we're really that great hub to get you into all the great Montana adventures." 
After seeing the buffalo at The Yellowstone County Museum, I decided to head south to see real buffalos in Yellowstone National Park.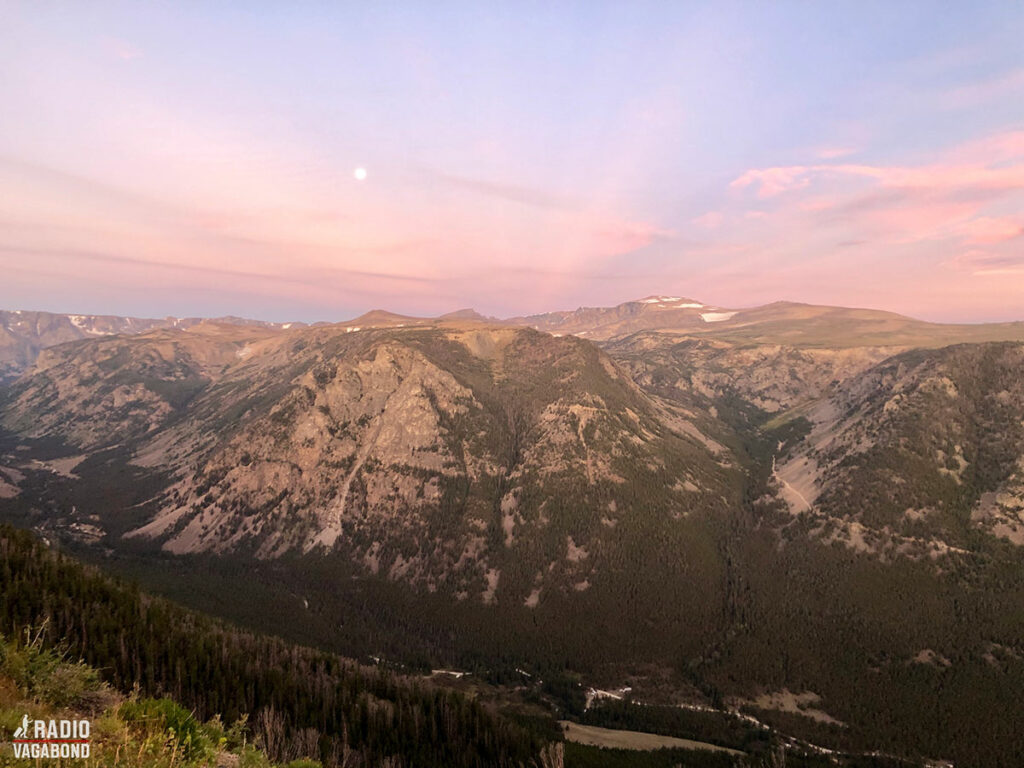 THROUGH YELLOWSTONE NATIONAL PARK
Yellowstone National Park is one of the most stunning and unique natural wonders in the United States. Spanning across three states, Wyoming, Montana, and Idaho, this massive park covers over 2.2 million acres – that's almost 9,000 square kilometers and about the size of Puerto Rico or Cyprus. 
It's home to an incredible array of geysers, hot springs, and other geothermal features. You can also spot a lot of wildlife, including bears, wolves, buffalos, and elk, and it's surrounded by breathtaking and scenic views that are simply awe-inspiring.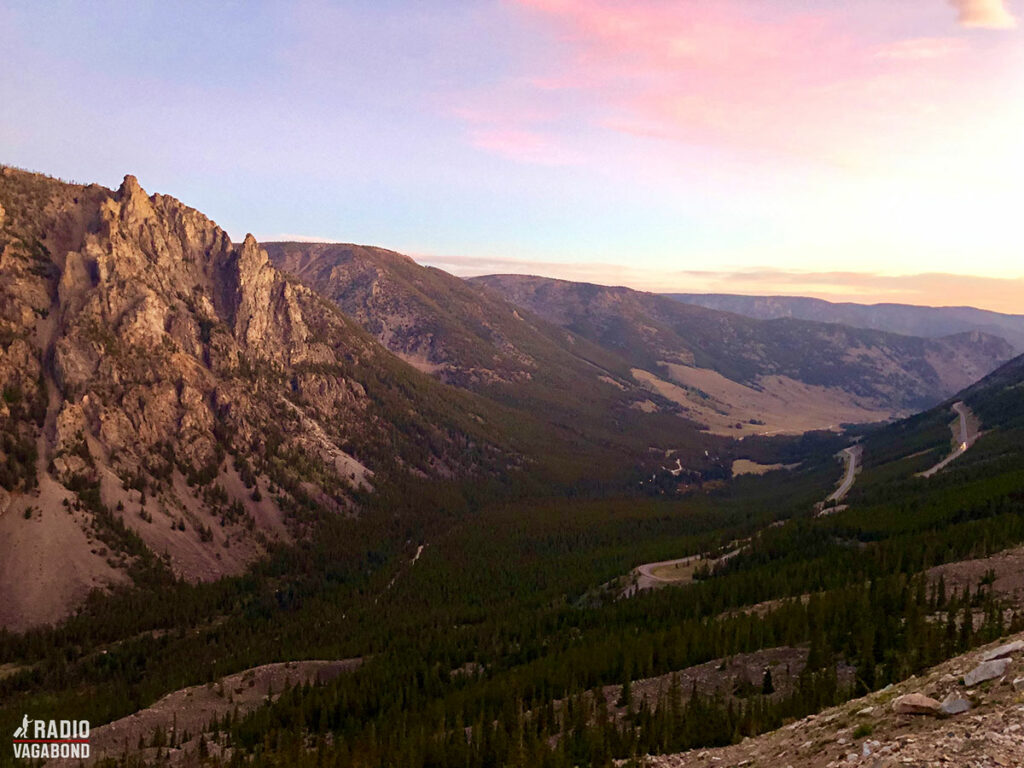 The park's history is rich and fascinating, and it was the first national park in the world, established all the way back in 1872. Over the years, it has become a beloved destination for millions of visitors each year.
One of the most awe-inspiring aspects of Yellowstone National Park is its over 10,000 geothermal features, and we, as visitors, can witness the power of these natural wonders as they boil, bubble, and steam in the midst of the rugged wilderness. I'm driving down towards the most famous of these. It's called Old Faithful – and there's a reason for that. But we'll get to that. 
Another fascinating aspect of the park is its diverse wildlife that can be seen roaming freely throughout the park. Visitors can also spot a number of bird species, including eagles, ospreys, and other birds of prey, making it a birdwatcher's paradise.
DON'T GET CLOSE TO THE BEARS
There are signs all over that we should stay at least 100 yards (91 meters) away from wolves and bears. But at a parking lot I saw a bear just a few meters away from a group of people taking pictures. This was crazy dangerous, and a car with some rangers drove up and shouted "move" and "get away" to the people. This was really dangerous, and some of these people could have ended up as bear lunch that day. 
I actually caught this on video, and on theradiovagabond.com, you can see it, hear the car with the rangers approaching – and them shouting "move." You'll be shocked to see how close some of them are. Just a few feet away from this huge bear. 
OLD FAITHFUL
One of the most popular attractions in the park is Old Faithful, a geyser that has been erupting for thousands of years. It is one of the most famous geysers in the world and is a major tourist attraction.
Old Faithful gets its name from the fact that it erupts every 90 minutes, making it a reliable and predictable geological feature.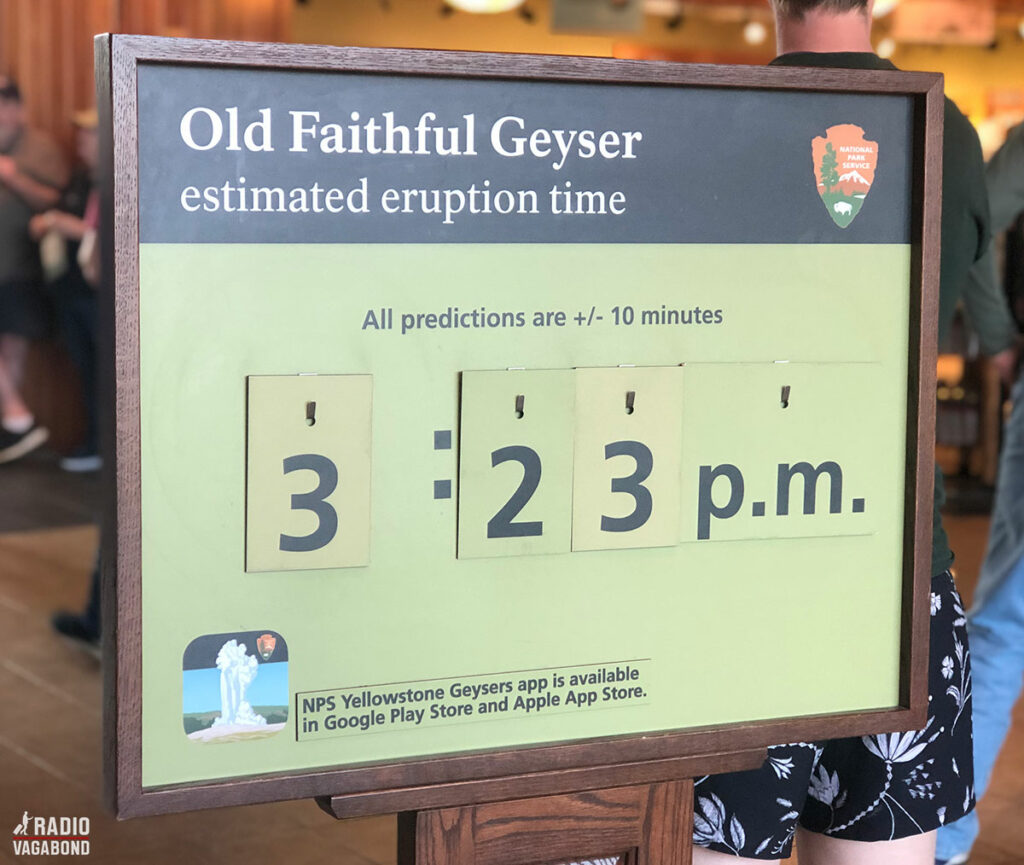 It erupts by sending a column of steam and hot water into the air, reaching heights of up to 185 feet (56 meters). The eruption lasts between 1.5 and 5 minutes, and even though its faithful nature, the interval between eruptions can vary a bit. But they do have a sign saying when the next eruption time is.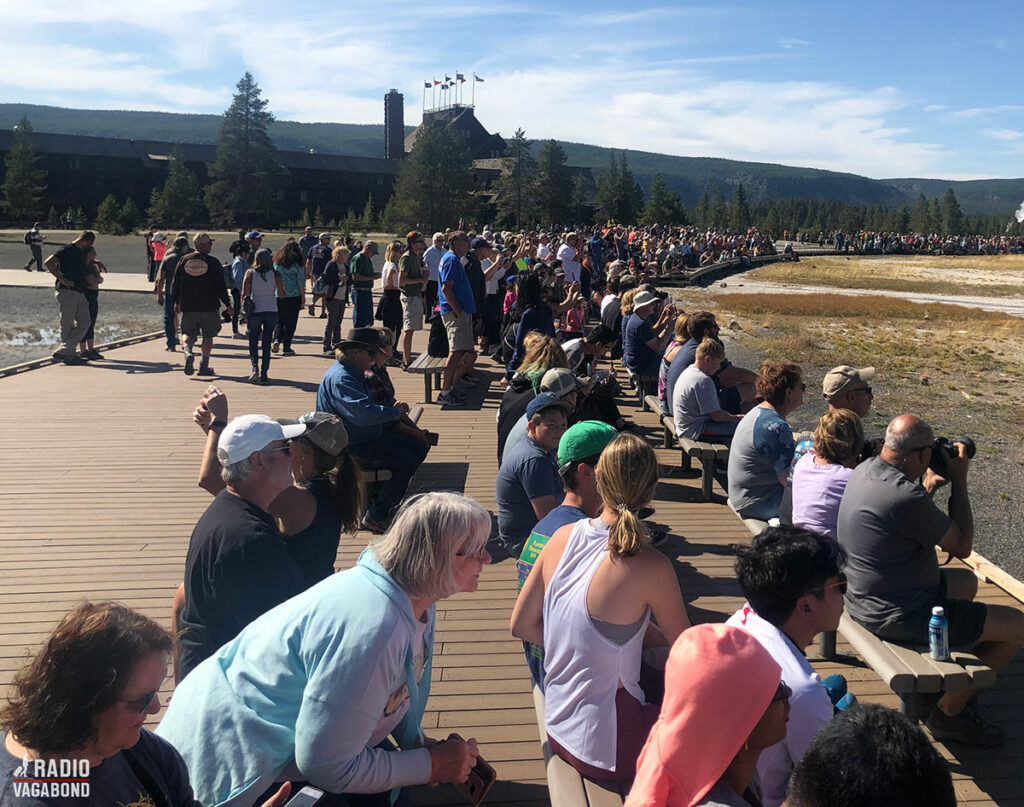 Old Faithful is one of the world's most famous and well-studied geysers and is a symbol of the natural beauty and geological wonder of Yellowstone National Park. It is a must-see destination for anyone visiting the park and is an experience that visitors will never forget.
I'm watching it from a viewing platform, but you can also take a guided tour to learn about the geyser and the surrounding area. The Old Faithful Visitor Education Center is also a popular destination, offering information about the geyser and other geothermal features in the park. I spent some time there and also watched an interesting video in their movie theatre.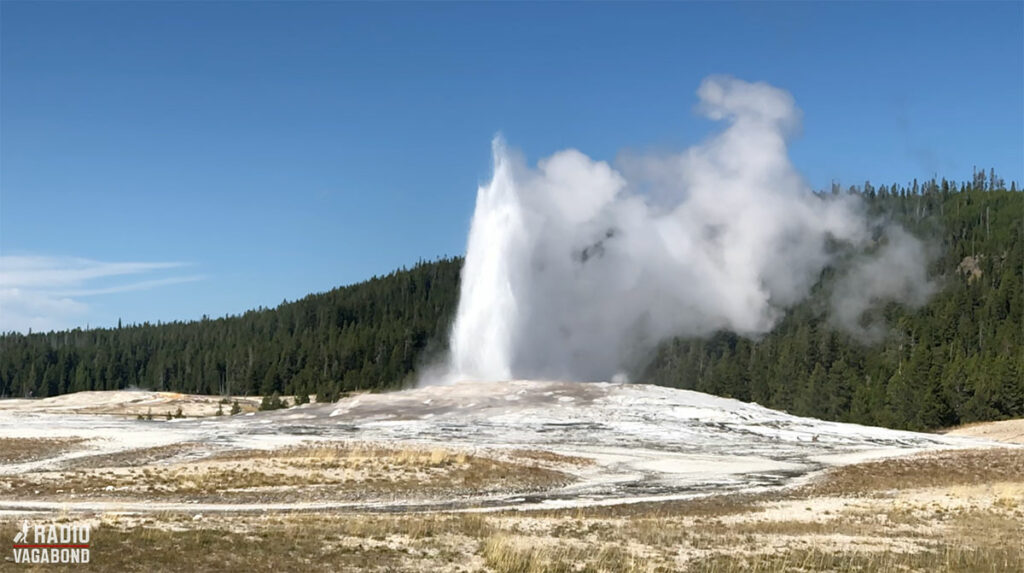 PUT YELLOWSTONE ON YOUR BUCKET LIST
Whether you're an avid hiker, a nature lover, or simply someone who loves to explore new places, Yellowstone National Park is an unforgettable destination that is sure to leave a lasting impression. It's a true bucket list destination that you won't want to miss.
Overall, Yellowstone National Park is one of the most unique and stunning natural wonders in the United States, and my visit to this incredible park is an experience that I'll never forget.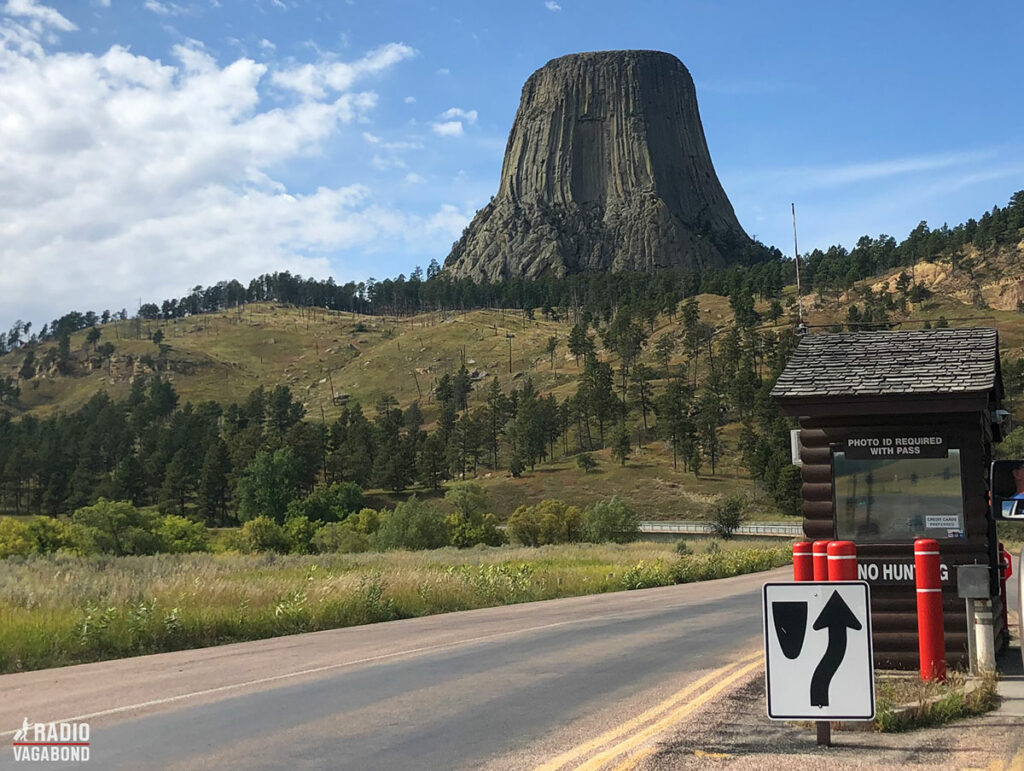 DEVIL'S TOWER – WITHOUT ALIENS
I have one more experience to share with you. I made my way across the state of Wyoming from west to east to a unique mountain. It's called Devils Tower, and actually it's not a mountain. It is a geologic formation, a monolith, and a massive chunk of rock rising out of the prairies like a middle finger flipped at the sky.
The rock itself is like nothing you've ever seen before and truly a sight that takes your breath away, a testament to the raw power of Mother Nature. With the unique flat top, it's rugged and covered in deep grooves that speak to the millions of years it's been standing here.
As you approach, you can feel the energy of the place, a pulsing beat that hums through the ground and up into your bones, and you can sense that history and mystery as you wander the base.
Devil's Tower became famous after serving as the centerpiece of the 1977 science fiction movie "Close Encounters of the Third Kind." Directed by Steven Spielberg, the film tells the story of a group of people who have encounters with aliensafter seeing strange lights in the sky.
The main character, played by Richard Dreyfuss, creates a copy of the tower in his living room and then is drawn there – even though the government tells people to stay away. 
They didn't tell me to stay away. Just to stay away with my microphone. I spoke to a ranger telling some interesting stories and asked him if I could record that for the podcast. He said I needed a permit for that and sent me to an office. Here, the manager said that he also wasn't able to give me that permit. I had to send a special request to the PR department of the Park Service – and then MAYBE, I would get a permit in a few weeks. 
This is America, and very bureaucratic in this way. Getting anyone to repeat what they just said to visitors into a microphone for a podcast is a long and difficult process, and something I experience again and again in this country – and only here. 
But still, I got to admire the unique landscape I remember so well from the movie. In it, the aliens communicate with the humans on the ground through a series of musical tones. And to this day – even though it was just a film – many people visit this place in the hopes of having their own close encounter.
It is one of the most recognizable landmarks in the American West and a protected national monument. It's a popular destination for rock climbers, hikers, and nature enthusiasts. It is considered sacred by several Native American tribes, who have a long and rich cultural history tied to the site.
So if you ever find yourself in Wyoming, make the pilgrimage to Devil's Tower. Stand in its shadow, feel its power, and be humbled by the sheer force of nature that created this magnificent landmark. And if you're hoping for an interview, ask a long time in advance. 
AI POEM ABOUT WHAT HAS HAPPENED 
The Radio Vagabond took a trip to Montana's land,
Where cowboys once roamed, wild and bold and grand.
He visited a museum in an old cabin brought,
With artifacts and stories, all worth a second thought.

He spoke with Terry, learned about the past,
Saw a buffalo, or was it a bison at last?
Then off to Yellowstone, where nature did astound,
A bear so close, the thrill made him resound.

The Old Faithful geyser, shooting high in the air,
A sight to behold, a memory so rare.
Days he'll never forget, in this big Western state,
Where the Radio Vagabond, his journey did create.

And then he went to Wyoming, where aliens once took flight,
A special mountain where close encounters took sight.
The Radio Vagabond, on his travels, will roam,
Bringing tales and wonders to his listeners back home.
My name is Palle Bo, and I gotta keep moving. See you.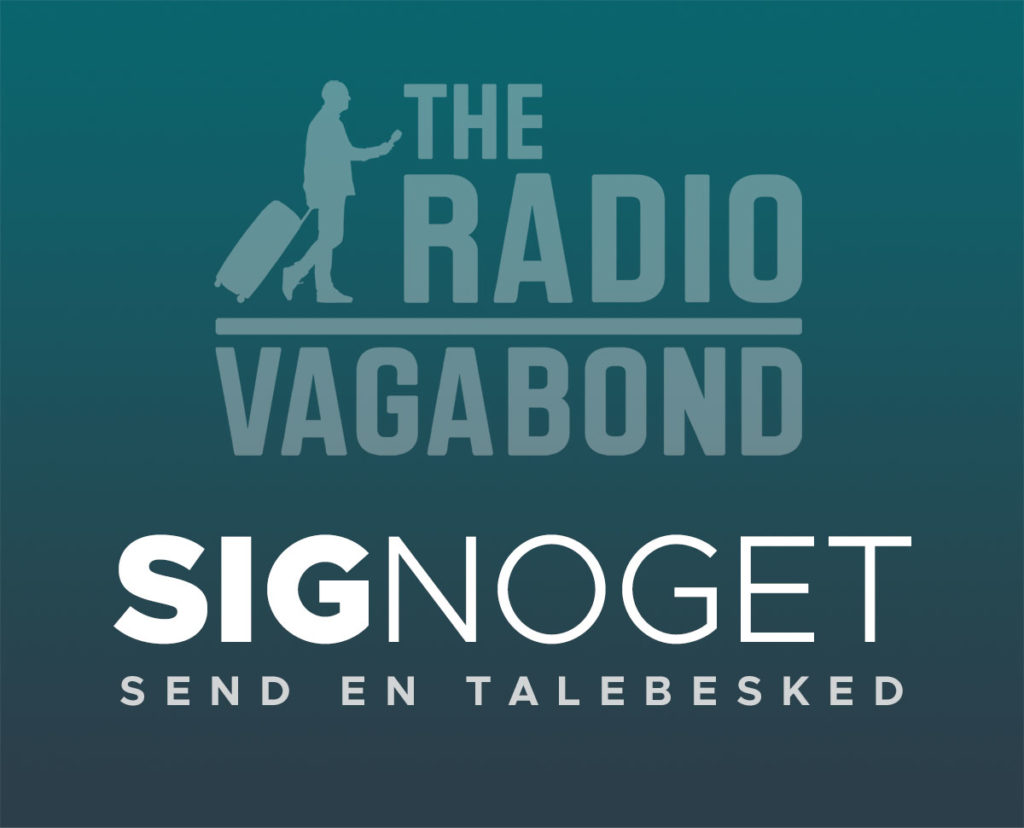 Uanset hvad du gør, vil jeg meget gerne høre fra dig. Det er altid sjovt at høre, hvem der sidder ude på den anden side af højttaleren.
DEL MED EN VEN
Har du en ven, der også er interesseret i at rejse og få inspiration til at komme ud og opleve verden? Så del denne episode. Send en besked eller ta' telefonen og fortæl om den. Du kan også bare klikke på en af de farvestrålende knapper herunder.
SPONSOR
Som altid tak til min sponsor, Hotels25.dk. Det er et sted, du altid kan finde de bedste priser på overnatning rundt omkring i verden. Og det er garanteret den bedste pris.
RADIOGURU
Radiovagabond er produceret af Radioguru, som også kan hjælpe dig med at starte din egen podcast.